dandelion TEA inspired from the ancient traditions of ayurveda & chinese medicine.
clean-brewed with chicory root, vanilla, chai spices & monk fruit for a barely sweet, zero calorie & caffeine free tea.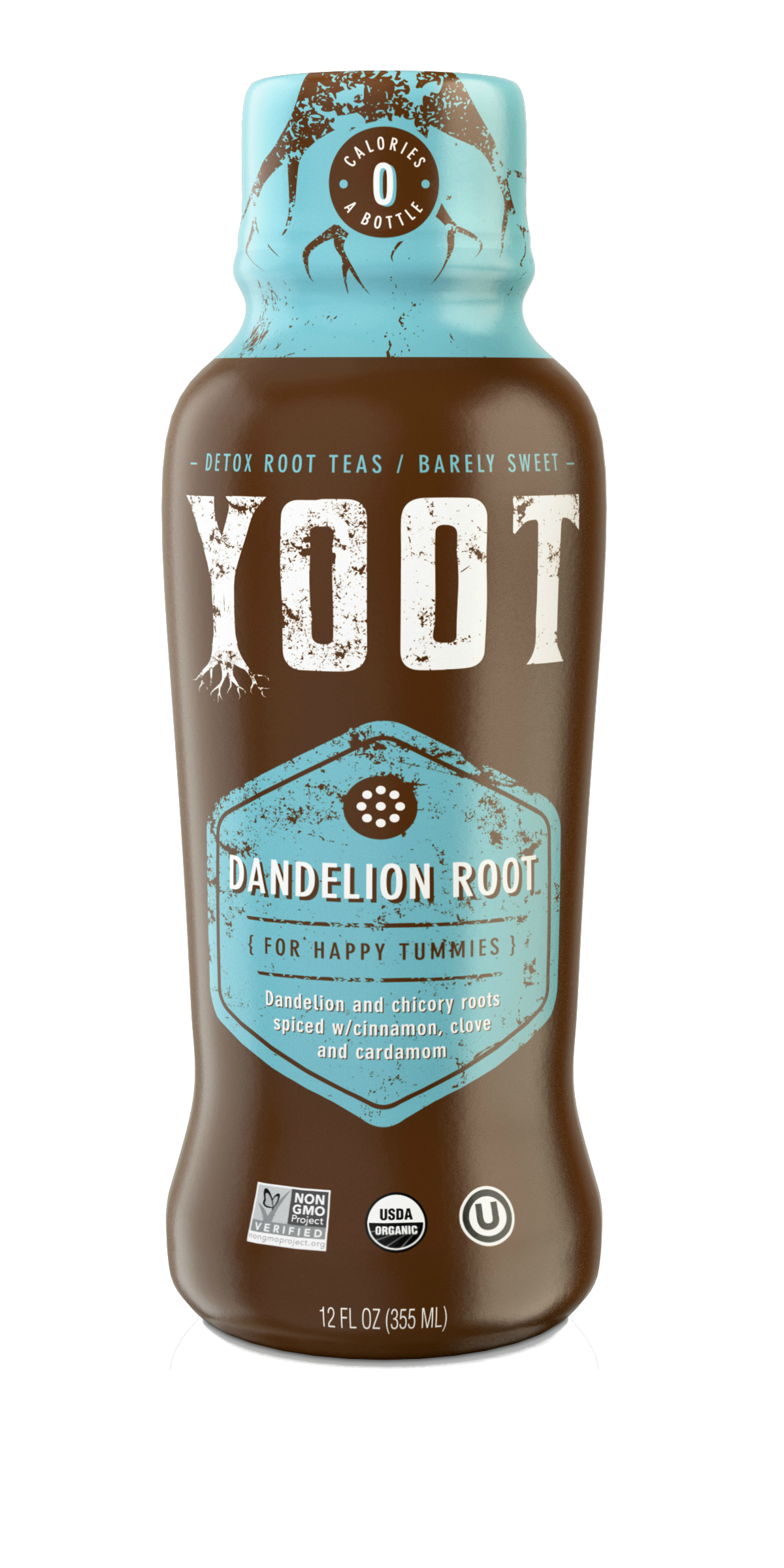 [ a light chai tea barely sweetened to promote happy tummies & satisfy all the cravings]
12 Fl oz (355 ml)
This unique herbal and root tea blend contains the healing substances of Dandelion Root to help support the healthy functioning of the liver and detoxify the bodily systems. It has been used for it's prebiotic function to promote healthy digestion, balance the intestine's natural bacteria, and flush out toxins for clear, healthy skin.
YOOT Dandelion Root & Herbal Tea is brewed with purified water, organic dandelion root, organic chicory root, organic cinnamon, organic cardamom, organic cloves, organic vanilla flavor, and monk fruit extract to create a delicious and stimulating 'Chai' tea beverage.
Caffeine-free
No added sugar
Zero calories
VEGAN
Organic
Non-GMO Verified
benefits of DANDELION tea
dandelion helps detoxify the liver
Commonly seen as a weed across North America, Dandelion is member of the daisy family of plants and related to dahlias, thistle, and sunflower. Dandelion root tea is high in antioxidants, making it one of the most effective natural liver cleansers to help filter toxins out of the body. One study by the Department of Food and Nutrition at Chonnam National University in the Republic of Korea actually showed that dandelion root extract helped prevent damage to the liver caused by alcohol toxicity in both liver cells and mice.
Maintains healthy SKin
Active skin, especially during teenage years, pregnancy, and menopause, is due to hormonal imbalances. Dandelion root is the foundation for many herbal 'clear skin' tonics since it is known to regulate hormone secretion and facilitate the removal of toxins. It is an excellent detoxifier, diuretic and antioxidant, making it extremely useful in the fight against acne and signs of aging. The sap found in Dandelion is also highly alkaline in nature, and has been studied for its germicidal, fungicidal and insecticidal properties to treat itchiness and eczema.
Prebiotics increase Digestive Health
Probiotics is a common term these day in the world of gut health, but prebiotics are just as important for a healthy gut, and our YOOT Dandelion Root Tea is full of it! According to Mayo Clinic, "prebiotics are foods that act as food for human microflora....and are used with the intention of improving the balance of these [probiotics] microorganisms." Dandelion root tea supports detoxification and cleansing of the digestive tract from the effects of fatty foods and coffee (!), as well as stimulating digestion and even helping with constipation.
Looking for YOOT Prickly Ash Tea or Licorice Root Tea? Learn more about Nansee's quest to create the perfect Chai Dandelion Tea & modernize the ritual of daily herbals.